Environmental Contracting Resources
When faced with challenging remediation requirements or troubleshooting legacy systems, our Clients rely on us for solutions to their problems.
We bring substantial resources to the program, from tools and equipment to specialized electronics and everything in between.
Decades of practical experience provide confidence that we can respond in a positive way to your needs, fostering success for your project.
The factors that lead to consistent, dependable results can be described in 3 areas: Planning, Process, and Performance.
In the sections below, we detail our approach to each of these important areas of business execution.
---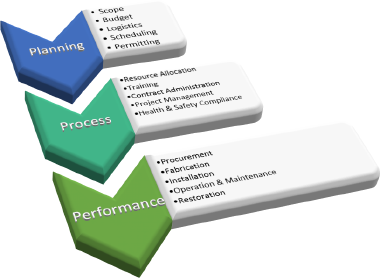 Planning
Clients who collaborate with us in a project's early planning stage benefit from our team's extensive practical experience. 
Early involvement allows our team to identify project challenges and opportunities while allowing time to adjust and benefit from our recommendations. 
We identify solutions that provide additional cost and schedule savings to our clients through the use of value engineering, constructability reviews and design enhancements.
Our planning process involves analysis of the following key elements:
Scope
Budget
Logistics
Schedule
Permitting
Process
Business processes provide a structured, consistent approach to managing the organization.
We have developed and adapted a process-based system to support the successful execution of work performed for Clients.
It features the following key elements:
Resource Allocation
Training
Contract Administration
Project management
Health & Safety Compliance
Read our Quality Statement
Performance
The most successful projects are those that start with thorough planning, are supported by strong business processes, and are executed by experienced, well-trained personnel.
As a strategic partner, we work with our Clients to ensure that their objectives are met.
Flawless execution of scope means that we have carefully thought through each step of the implementation process, and accounted for contingencies in each phase:
Procurement
Fabrication
Installation
Operation & Maintenance
Restoration / Close Out